The Police Should Always Lead by Example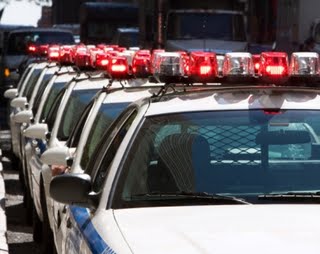 Earlier today, I was driving home from the supermarket and happened to pull up next to a police car at a traffic light. The cop driving the car was yapping on a cell phone. His windows were rolled up so I couldn't hear what he was talking about, but I assumed it wasn't a serious call, because he was doing a lot of laughing and smiling. When the light turned green, I noticed that this cop was still talking on his phone, while driving. I gave him a you-should-know-better look, then made a turn, which took me away from the police car and down a road near my home.
A few seconds later, I looked into my rear-view mirror to find that the same police car was now tailgating me. The officer hadn't done anything to signal me to stop. He was just following me very closely. I immediately recognized the game he was playing, so instead of driving to my place, I circled the block a number of times, being very careful not to make any driving-related mistakes. The officer followed, patiently and intimidatingly. Tired of this game, I parked in a parking lot far from my front door, and waited for him to make his move. Of course, he couldn't do anything, since I did nothing wrong, so he took off.
I do not regret giving that police officer that look.
For some years now, I've been hoping that cops get a lot more serious about cracking down on people chatting on the cell phones while driving, but based on my own anecdotal experience, it doesn't look like I'm gonna' get my wish. Yep: it's time to write a letter to the Mayor.
Labels: distracted_driving, police